Meet the Doctors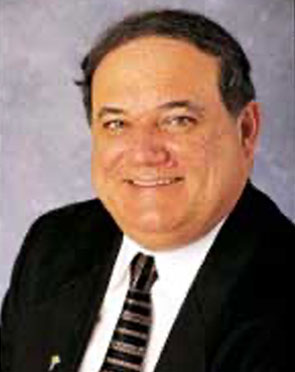 JOHN R CALAMIA, DMD
Dr. John is a graduate of Brooklyn Preparatory High School NY '67, Mount St. Mary's College, MD '71, the University of the East '78, with post graduate training at New York University College of Dentistry, '79 - '80.
Dr. Calamia is currently Full Professor, and Director of Aesthetic Dentistry for the Department of Cariology and Comprehensive Care, New York University College of Dentistry, New York City, New York. He has taught Restorative Dentistry and Dental Material science at NYU Dental Center for nearly 40 years and is recognized both nationally and internationally as co-developer of Etched Porcelain Laminate Veneer Technology. His research on porcelain etching and silane coupling agents led to his placement of the earliest recorded Etched Bonded Porcelain Veneers in October of 1982 and these restorations are still successful more than 35+ years later. The procedure developed by Dr. Calamia in 1983 is still a mainstay of all cosmetic dental practices. He is very active in research, teaching and private practice and he describes this combination as the perfect marriage within the profession.
Dr. John has been granted Lifetime membership in the ADA and is a member of the American and International Associations of Dental Research. He has attained fellowship in the Academy of General Dentistry and both the American and International College of Dentists. He was elected 2009 President of OKU National Dental Honors Society, NY chapter. With more than 50 scientific articles published and more than 100 presentations in the US and 15 foreign countries, Dr. Calamia is a recognized expert in Etched Porcelain Veneer restorations and Aesthetic dentistry.
His American Academy of Cosmetic Dentistry Awards include:
- 1994 Outstanding Contribution to the Arts and Science of Cosmetic Dentistry
- 2007 Award of Excellence in Cosmetic Dental Education
- 2007 Award of Excellence in Cosmetic Dental Education
- 2016 AACD Lifetime AchievemenCt Award
He shares his private practice with wife Sonia Calamia DDS, daughter Christine Calamia - Levitsky DDS, and son Vincent J. Calamia DDS.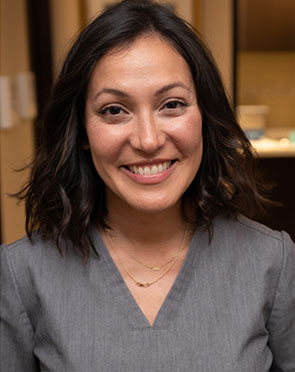 CHRISTINE S. CALAMIA-LEVITSKY, DDS
Dr. Christine Calamia grew up in Massapequa, Long Island and graduated from Our Lady of Mercy Academy High School in 1999. She earned her Bachelor of Liberal Arts at New York University in 2003. In 2007 she graduated with her DDS from New York University and completed her one year General Practice Residency at Long Island College Hospital in Brooklyn Heights in 2008.
Prior to her entrance into dental school and during her first year, Dr. Christine participated in biomaterials research and was published in several research magazines. While her final year NYU dental school, Dr. Christine was selected to participate in the Esthetics Honors Program. She completed a two year Fellowship in Implantology at 2014 at NYU.
When she isn't in the office, Dr. Christine enjoys spending time with her husband Bill, daughter Olivia and son Liam.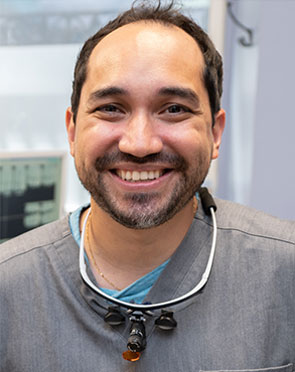 VINCENT J. CALAMIA, DDS
Dr. Vincent grew up in Massapequa, Long Island and graduated from Chaminade High School in 2001. He earned his Bachelor of Science degree at Sacred Heart University, CT 2005. Dr. Vincent received his DDS degree from the New York University College of Dentistry in 2011 and completed his General Practice Residency at Lutheran Medical Center LICH Campus in Brooklyn Heights in 2012.

During his final year at NYU Dr. Vincent was selected to join the Honors Esthetics program where he was able to concentrate on more complex esthetic cases. Dr. Vincent continued to be involved with the program as he returned to NYUCD to become part of the faculty after graduation. His passion for the profession of dentistry is what drives him to pursue different avenues of continuing education student mentoring. He is a member of American Academy of Cosmetic Dentistry and has attended institutions such as the Kois Center in Seattle, Washington.

In his free time Dr. Vincent enjoys spending time with his wife Dr. Eileen Calamia, a pediatric dentist, and his daughters Vienna and Gianna Calamia.